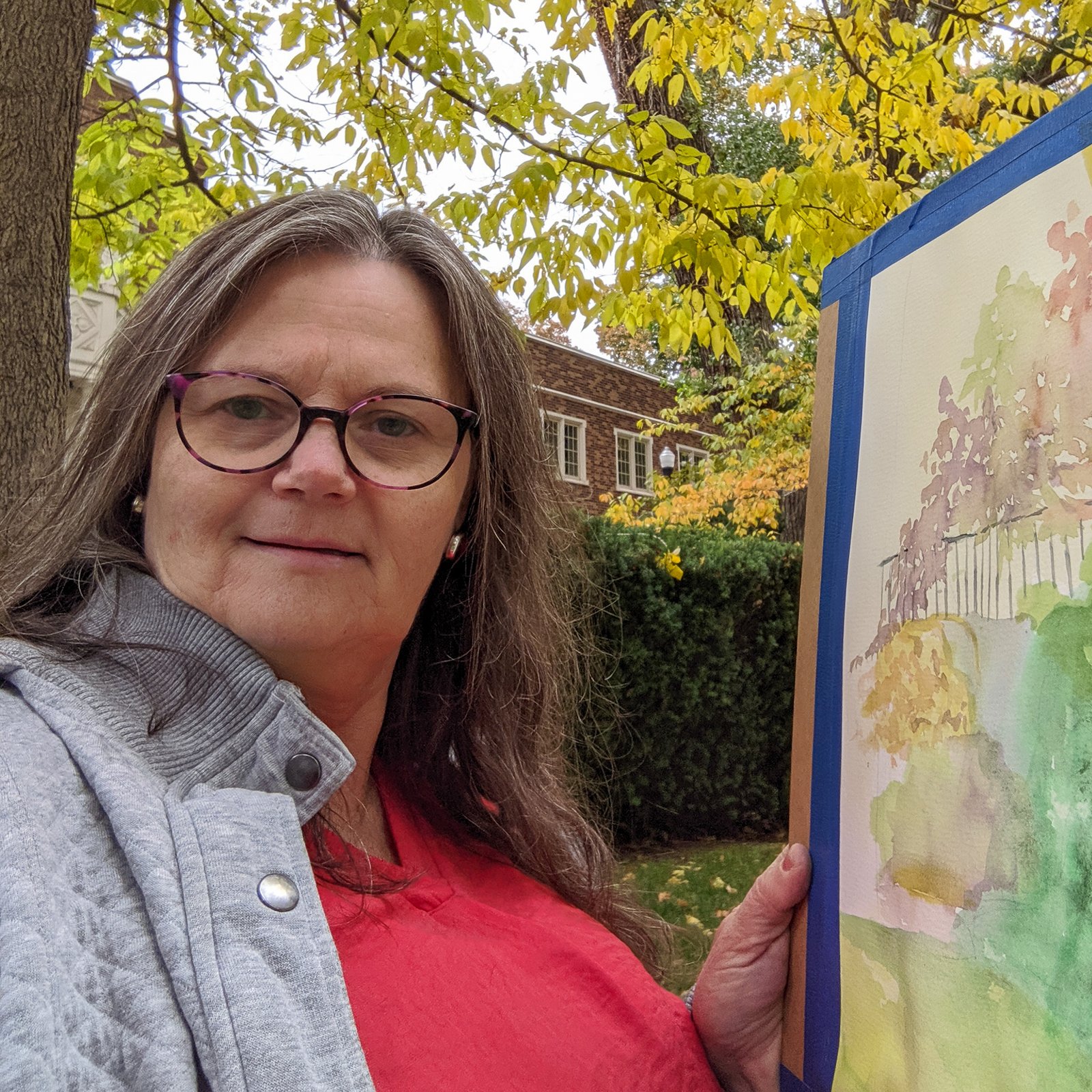 It's All About Making Art!
I've always thought of myself as an artist first, and find it interesting that both the scientific mind and the artist are said to view truth as beautiful and beauty as truth. These few words may not inform you of my work as will the work itself, but I can speak to you in rational terms.
I often find myself interested in the reflections on surfaces we don't normally think of as reflective. In predawn light, I see a blending of red taillights and stoplights with the green from the light as it turns, becoming lavender as it hits the rivers of tar meant to patch cracks in the road. I'm interested in the colors shining off cement barriers between lanes of traffic in the dark or on a rainy night. These and other reflections make me wish I had a driver so I could use my camera to capture as I see them; instead I keep them in my mind's eye to influence my painting.
My medium of choice for many years has transparent watercolor, though as I grow more proficient as a photographer and as an acrylic painter, I find these to be increasingly enjoyable. My other creative pursuits include silver casting, lapidary, and a portion of my soul is expressed as a poet.
I produce watercolors in rich and vibrant hues. My subjects range from portraiture and figurative work, floral, landscapes, and human interest in an impressionistic style. I like to take a different view and break a few rules, and occasionally work in abstract. I paint in acrylic and use photography as an art form and for reference. In addition to a wide selection of currently available pieces, I am available to create customer artwork.
My goals as a painter are to express my concept of beauty in even the mundane, whether in nature, in a dream, or from my imagination. I often find that an image stays with me until a work is completed. I feel that art should express the artist's inner beauty and passion to the world outside. Whether creating images that are representational, abstract, or somewhere between, I view art as an emotional statement by the artist, to communicate with the viewer on levels both above and below the conscious mind.
My career as an artist began as a child, drawing and painting regularly, and has included five year's full-time work as a graphic artist, many years of volunteer work for Utah Watercolor Society. I'm a current member of the Local Colors Gallery of Utah, a fine art cooperative gallery located in Sugarhouse, a gentrified neighborhood in Salt Lake CIty, Utah, where I show and sell wheel-thrown and hand-sculpted pottery. I originally learned wheel-thrown pottery at Pioneer Craft House, along with lapidary and silversmithing. Because there was a long gap since my initial coursework, I re-learned by teaching myself with the direction of several on-line teachers. Now wheel-thrown and hand-built pottery has been my main focus over the last three years.
Each ceramic piece is made by hand, unique, and one of a kind whether hand built or thrown on the potter's wheel. Even sets made completely by hand will have variations between pieces, by design.